Excellence, Entrepreneurship, Innovation & International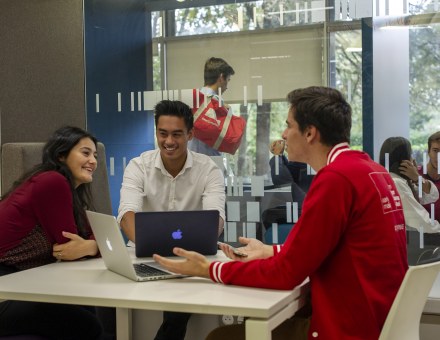 The Global BBA is a certified 4 year "post-baccalauréat" bachelor degree of excellence in management, designed to bring "post-baccalauréat" students to their full potential. As per Anglo-Saxon Bachelor degrees, this 4 year program is complete and ambitious, allowing to access qualified jobs and the best international double degrees. For those looking to pursue with higher education, our Global Bachelor in Business Administration can be a passageway to some of the best Master degrees. Our Global BBA is more than the excellence of one of the best renowned business schools in France and in Europe. The pedagogical approach is based on experimentation and on an openness to the world via its multi-campus tracks. Resolutely looking towards operational management, our Global BBA not only allows you to learn the fundamentals and develop skills aligned with such high academic level, but it is mostly a means to build and create by yourself academically and in companies. Your learning environment will thus be marked by this unique approach, and being a maker will open new horizons.
Key elements
A multi-campus program: Saint-Etienne - Paris - Casablanca - Shanghai – partner universities
Solid fundamentals in business and management with innovative pedagogy
Multidisciplinary learnings thanks to regional academic partners
Double degrees
Up to 19 months in internship and the possibility of dual apprenticeship
High quality management and a teaching Faculty made of experts from emlyon business school
High quality career support in a leading business school renowned for a strong employability
Find out more about the architecture of the 4 year of our Global BBA, and detailed courses below:

Double Degrees

In addition to international double degrees, you can take a double degree in year 3, with the W school, a school dedicated to digital content and creation, and major in "journalism, documentaries and fictions".
Program architecture

Examples of classes
1st year
Marketing Boomerang
Sales Management
Projet maker's academy
Project management
Company legal structures
Company success stories
Understanding accounting information and data
Costs and decisions
Marketing : analysing and understanding markets
2nd year
Introduction to Management (Social Sciences, Work and Human Resources Management)
Cross Cultural Management
Strategic Marketing
CSR and Sustainable Development
Introduction to financial markets
Web search engine optimisation (SEO)
Visual Basic and Data base
3rd year
International Business
International Business Law
Competitive & Business Intelligence
International Marketing
Human Ressources Management
Information & Digital systems
4th year
Corporate governance
Managing Sustainable Innovation
Operations management
Strategic & Change Management
Global Business Case
Brand management
Digital transformation and new management practices
A specialization (major) of your choice in the 4th year
Saint-Etienne Campus
Branding and Marketing Management
Creative Technologist
Digital Marketing
Entrepreneurship and Innovation
Finance
International Business
The making of management
Paris Campus
Marketing in Luxury Industries
Marketing in Sports
Shanghai Campus
Casablanca Campus
Find out more about the program in the brochure
Take the 4-minute quiz to discover if this Global BBA taught in English at emlyon business school in France is right for you!