Fati Fofana joined the Global BBA program after obtaining her high school diploma in economic and social studies in the European section at Grenoble. She shares with us her motivations and what she appreciates in this bachelor program.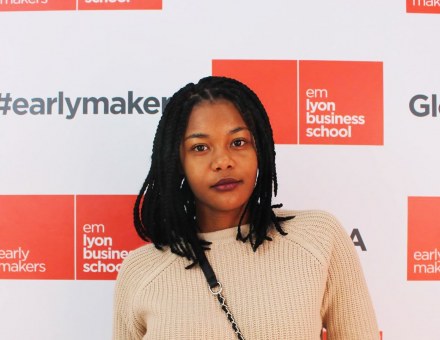 Why did you choose emlyon business school and the Global BBA program ?

I chose the Global BBA program at emlyon business school because I wanted to avoid the stress of higher school preparatory classes (Classes préparatoires aux Grandes Ecoles) but also because of the international aspects of the Global BBA program. The Global BBA allows me to move around and discover the world thanks to the different internships and exchanges, and for someone like me who adores travelling and discovering new cultures this program is perfect.
What has the Global BBA program brought you?

The Global BBA program has enabled me to acquire skills I did not previously have but which are really important, such as computer skills. The internships also help us to measure up to the realities of the professional working world through our research on the one hand and the extended term internships within the actual company. The international experience was my most important aim when joining the program and I don't think I have been mistaken: I am currently carrying out an internship in Berlin, a major European capital, and soon I will be leaving for Toronto to study for a dual degree at Glendon College.
A special aspect?

What has most struck me at emlyon business school, especially at the Saint-Etienne campus, is that we are a bit like a small family, whether it be with the students or the teachers. This kind of atmosphere helps us to feel good and to flourish both in our student life and in our studies. I think this is all part of the School's philosophy since we are encouraged to be together through events organized by the associations and our group work. And especially thanks to the Learning Hub which is an essential space where we can meet up either to relax or to work.