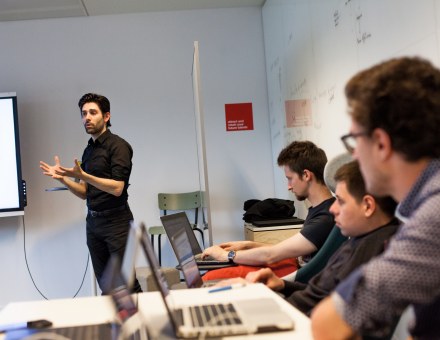 All opportunities at hand
emlyon business school's careers services are recognized by companies and BBA students alike for their efficient support and guidance. 97% of our graduates sign a contract for a high-quality job within 6 months of graduation.
In order to orient you and prepare your employability, a full range of tools, workshops, conferences and events are made available to you. Careers training may include individual coaching and meetings with the relevant experts ready to help you reflect on your areas of interests, identify relevant opportunities, master your digital image, and market yourself to company recruiters.
Ranked in the top 40 worldwide & 2nd French business school (November 2020, The Times Higher Education, the reference compiled from the choices of international recruiters)
35,700 alumni in 130 countries, 100 correspondents across all continents to support you in your international mobility
Access to the online alumni directory, your resume visible to potential recruiters

Jobs offers and prospects upon graduation will open a wide vista of opportunities in all sectors of activity including control & finance, marketing & communication, sales & business development, international projects & negotiation, with functions such as international business coordinator, financial analyst, external auditor, business manager, area manager, marketing officer, quality manager, global purchaser…

An alternative option after your Global BBA may be to pursue your studies. emlyon business school's diverse offering of specialized graduate programs represent one immediate opportunity, while your 4-year Bachelor's degree and wide-ranging experience will put many degree programs in other top institutions abroad well within your reach.
Employment key figures
Time taken to accept job offer:
72,4 % before graduation
100 % in less than 6 months
Average salary: 41 975 €

Survey carried out in 2021. Concerns the class of 2020.
Internships figures of 2019 - 2020


Examples of internships in 2nd and 3rd year:
Commercial Assistant in Mitsubishi (Japan)
Real Estate Asset Officer in Engel & Volkers (USA)
Logistics Officer in Sephora (China)
Marketing Officer in Evian (France)
Communications Officer in Legrand (Australia)
Assistant of Marketing Project Manager at Cartier International (France)
Marketing Assistant at Adidas (Germany)
Guest Services at Sofitel Dubai (UAE)
Asset Management at Societe Generale (Ireland)

Host companies
Adecco, Bayer, Bolloré, Consulat de France, Danone, Electronic, Arts publishing, GL Events, Grant Thornton, Hilton, Kering, Moët Hennessy, Nielsen, laboratoires Urgo, Zurich...