Admission into the Global BBA
Want to know how to join the Global BBA?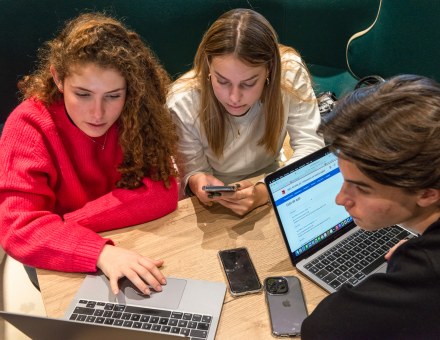 The admissions procedure is highly selective and demanding. Nevertheless, as emlyon business school aims to go beyond excellence, we pay great attention in our selection process to all the details and factors that could be indicative of your future potential. Our efforts do not limit themselves to selecting the best students; our responsibility is also to imagine how you, as an individual, can develop the potential that will enable you to exceed your own expectations while meeting the expectations of future recruiters.
The selective process is a challenge that can also represent a new start for you. We are looking for future makers, and this does not always mean being top of the class, as we know from experience.
Admissions requirements
It is possible to enter the program at different moments, from the first, second or third year on.
Admission to the 1st year:
For students in their final year studying for their High School certificate, for the IB or "National Baccalauréat", or for an equivalent certificate
Admission to the 2nd year:
For students presently completing a 1st year of university studies (to be validated by 60 ECTS credits) or a diploma certifying one year of successful study at a higher level and issued by an official higher education institution.
Admission to the 3rd year:
For students presently completing a 2nd year of university studies (to be validated by 120 ECTS credits) or a diploma certifying two years of successful study at a higher level and issued by an official higher education institution.
N.B. Students seeking to enter the program at this level (3rd -year) must have pursued studies in the field of management comparable to the contents of the first two years of the Global BBA program.
This program is eligible for VAE (APEL : accreditation of prior experiential learning), find all the information on em-lyon.com
Selection Process
Selection for the Global BBA is competitive. Enter emlyon business school via a full online admission test.
You are first evaluated on the content and quality of your High School course work, your grades, your English proficiency.
After successfully submitting your application online, you will then take our online admission test.
This last examination is made of tests and a setting of fictitious situations to evaluate your organizational, strategic and relational skills. All these tests aim at evaluating your potential as a manager.
How do the tests unravel?
First of all, you must find out what context you are presented with, and take over the role you are allotted to achieve a specific goal. The business, or association to be dealt with is introduced, along with the co-workers and the issue at stake. Business cases and tests are all fictitious.
Step 1: managing messaging
You are asked to manage e-messages and interact with several counterparts.
When you are asked a question, 2 actions are expected of you:
- Among the various options, select the answer which you find to be the most appropriate and slide it into the message thread.
- Delete the least appropriate answer.
Messages all involve the context primarily explained.
Step 2: interactive meetings
You are asked to participate in 2 meetings: using avatars, you discuss with other participants who will share questions or issues. Select the answer among the multiple choices.
Step 3: reporting
This is a written exercise. You are asked to answer an open question as a report form, a final statement as a constructive hindsight regarding your preceding answers, or give your opinion.
Step 4: deferred video interview
This is a distant interview. You are filmed while answering questions displayed on your screen. You have 15 seconds to read each question and a limited time is set for each answer.

The decision concerning your admission to the Global BBA will be taken by the Admission Board directly after the selection phase.
Admissions sessions will be organized regularly up until July 2024.
Admissions sessions
Admissions sessions are organized from from November 2023 to July 2024.
To learn more about our admission procedures and apply online, create your account.
Candidates who hold a "French Baccalauréat" must submit their applications through the French competitive exam procedure : concours SESAME
Where to start the Global BBA
You are temporarily or permanently disabled, or with a disabling medical condition?
The Disability Unit can provide customized support in strict compliance with confidentiality, and can:
Take into account your specific needs and make sure that your years at emlyon business school go as smoothly as possible, and that you are integrated to the student life
Provide specific arrangements and resolve your access issues via the implementation of an individualized pedagogical follow-up
Act as the interface with all other school departments
Guide you through your administrative and pedagogical procedures
In case we are unable to provide the specific arrangements you may need, we can follow through with external partners to find solutions to level out your disability
Download the Welcome Guide Disability
Our team is available at the following email address: handicap@em-lyon.com
To find out the key dates, the admission conditions and the contact of your program advisor, create your account and access your personal space.