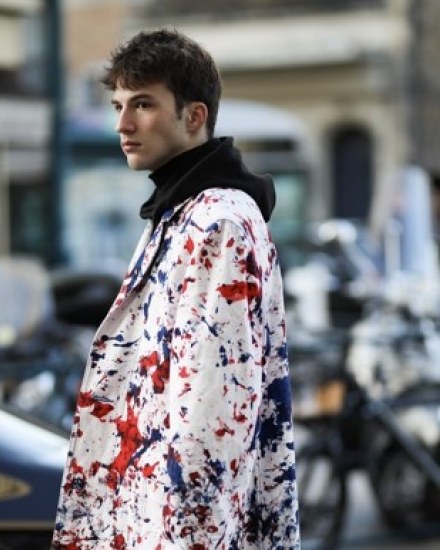 Who I am ?
My name is Mateusz and I'm currently in the fourth year of the GLOBAL BBA program. 4 years ago, I moved from my home city in Poland to study at the parisian campus of emlyon business school. I've been working in the fashion industry from the age of 17 – first as a male model and later exploring further the industry from a business side as I progressed with my studies.
Why did I decide, 4 year ago, to join the Global BBA programme ?
Back in 2017, after I had passed the polish equivalent of the baccalauréat exam, I decided it was finally the time for me to move out from my mother country.
Why did I choose emlyon ?
While researching different universities and business schools online, I stumbled upon the GLOBAL BBA degree at emlyon business school. What struck me first, was the spotless reputation of the school, the incredibly international program and focus on entrepreneurship. I expected the school to be full of open-minded people, both students and teachers alike, from different parts of the world. I hoped that the GLOBAL Bachelor in Business Administration would open a lot of doors ahead of me and give me a competitive advantage within the job market. 4 years into my studies, I realize that all of those things came true, however, not always the way I initially imagined it. Throughout its duration, the degree teaches you how to adapt and pushes you out of your comfort zone. When I first looked at the BBA brochure, I thought "oh great! It's so international. I'll get to travel all the time", but I quickly realized, that going abroad to complete an internship or an academic exchange is not anything like travelling for tourism. It's a real challenge, that can intimidate and stress you out at times, but first and foremost, it's an invaluable experience, that expands your horizons and helps you become a more mature and whole person.
What are some of the challenges, which I learned the most?
The biggest challenge for me was to learn how to quickly adapt. Although, in theory it seems very easy, being adaptive means being able to tackle your current problems and environment, while anticipating and reacting to any of the incoming changes. In terms of the GLOBAL BBA, this phenomenon manifested itself in different ways, like having to complete my academic courses, while researching an internship for the following semester or working with different and unknown people in project groups for each class. All of those challenges, while sometimes quite stressful and intimidating, helped me to step out of my comfort zone and grow as a person. Nowadays, while working part time or completing my last internship, I am able to adapt faster and better to different contextual changes, stay organized and know how to lead and work in teams.
What emlyon business school helped me to achieve ?
It was always critical for me to be able to pursue my passions parallel to my studies. Thanks to my campus being located in the heart of Paris, I had so many opportunities, that I would have never experienced otherwise. Fashion and design have been the love of my life for as long as I can remember, and there's no better place in the world to grow within those fields, than Paris. Living in the French capital, almost immediately, I started working for designers, fashion magazines, stylists, photographers and casting directors. First, with small brands, that didn't require any prior experience, while gradually working my way up. As I went further ahead in my studies, I also started unearthing skills and talents of mine that I was never aware of. Classes, like the UX DESIGN SPRINT and the makers' lab, helped me understand how fun, natural and intuitive technology is for me. I began to develop those interests, which were also supported by the innovative classes of year 4. Today, all of these experiences, helped me to land a dream internship at the convergence of fashion and technology.
If I had to describe my experience at emlyon business school in one word ?
REWARDING!
During those 4 years what are my best memories related to any of the emlyon business school activities? I think the best was probably being able to complete an exchange semester at the sungkyunkwan university in Seoul and travel around the far east.
I hugely regret not paying more attention to French. It's far better, than when I came to France, but there's still a lot of work ahead of me to become fluent. When I entered the 4 year long program, I always thought I had so much time to learn the language, but as cliché as it sounds, those years go by so fast.