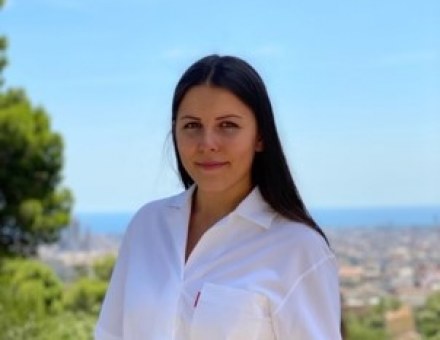 Who I am ?
I am Carmen, 21 years old and a fourth-year student enrolled in the Global BBA of emlyon business school in Paris. I followed the Luxury Marketing major in Paris and am about to enter into the last semester of the Global BBA.
Why did I decide, 4 years ago, to join the Global BBA program?
In 2017, I decided to join emlyon after obtaining my economic and social baccalaureate in high school. Like many students, I was offered several choices of business schools and the decision required some reflection. At that time, I was not targeting any specialty and did not have any particular professional perspective. Indeed, I wanted to evolve at my own pace and study in an environment that would lead me to have various experiences.
Why did I choose emlyon ?
At this stage of our life, many people ask us what we want to do in our future, what we want to become. I appreciated that the Global BBA was opening doors to an endless number of opportunities and various industries. At emlyon business school, I really value the diversity of profiles within the school. Indeed, various profiles and backgrounds are welcome into the program and the school does not only consider our high school transcripts and tests result to validate our admission. To me, this mattered a lot and I realized that this program would be a perfect transition from high school to the start of my professional journey.
Which challenges did I learn the most from ?
I appreciated the "professionalizing" aspect of the BBA. Indeed, having a professional experience every year was very important to me as I enjoy having a balance between studying and applying my new learned skills to my work experiences. It is also a great strength to have professional experiences when we graduate. Indeed, most companies require years of experience and having the opportunity to build a strong resume is a great asset. I joined emlyon business school believing that it would be the perfect path to make myself evolve from a young high school student to an experienced graduate who can confidently enter the job market. After four years, I can say that my expectations were met as I believe the Global BBA brought me the necessary knowledge and self-confidence to start my professional journey.
What did emlyon business school help me to achieve ?
emlyon business school allowed me to gain a high level of confidence. Indeed, over the past four years, I have reached many goals that I did not expect. When I joined the program, I was very anxious about leaving home and going in a foreign country for a long period of time. The fact that we have to spend at least two semesters abroad is a tremendous springboard. Indeed, my first long-term experience abroad was an internship of five months in Florida (USA). At the beginning, I was not keen to leave home and I was anxious about it. Finally, when I came back to France, I was excited to renew the experience abroad. After that, I completed a one-semester exchange in Birmingham (UK) and did a five-month internship in the hospitality industry in the Maldives. At the beginning of the Global BBA, I was not planning to travel that much, and I am not sure I would have taken the initiative to go abroad if it wasn't suggested by the school. Thus, I strongly believe that emlyon business school allowed me to have all these experiences abroad and to rethink my career with an international perspective.
If I had to describe my experience at emlyon business in one word ?
Immersive!
Indeed, this program made me become more mature and obviously knowledgeable on the key business concepts, by immerging me into the real world. I appreciated that we are not kept into a bubble, but we would rather explore the world and the opportunities, while being mentored and guided by the school, which I believe is a great transition between the teenager and adult life.